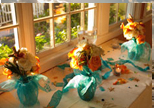 With charming indoor and breathtaking outdoor venues — from sunset cruise rehearsals, to barefoot beach weddings, to black-tie affairs — 'Tween Waters Inn, unlike any other resort on Sanibel or Captiva Islands, offers you the unique opportunity to create your island wedding, and island memories, just the way you want.


Sunset Beach Weddings:
Why You'll Love 'Tween Waters Inn.
Travelocity calls Captiva's sunset "the most romantic in all America" — and you'll agree. To help you make the most of your magical beach wedding, 'Tween Waters Inn offers you three breathtaking beach ceremony options, complete with choices of accoutrements including lattice archway, sunset tiki-torches, beach seating and more. Soft white sugar sand, warm turquoise Gulf of Mexico waters and brilliant sunshine, no additional charge. Download Our Wedding Services Brochure.


Rehearsal and Reception Venues:
Why You'll Love 'Tween Waters Inn.
Is your dream wedding carefree and casual? Classic and formal? Or maybe even, a little bit of both? Lucky you, the legendary 'Tween Waters Inn Island Resort here on romantic Captiva Island can make your every dream come true, with rehearsal and reception venues (interior and exterior) that will complement (and complete) your heart's desire. These options include:
ts-awesome-star The Wakefield Room. A classic, formal ballroom for up to 120 guests that, with its unique second-story elevation and full-length open balcony, provides a spectacular panorama of the Gulf of Mexico and our private beaches.
ts-awesome-star Captiva House. This acclaimed Gulfview restaurant is TripAdvisor's top-rated fine dining destination on Captiva — and as one of the island's original structures (a schoolhouse), it's also a historic landmark. Can accommodate up to 160 guests.
ts-awesome-star Sunset Room. An altogether charming anteroom to Captiva House that, as its name implies, streams rays of color-strewn sunset through its window-filled walls. Also offers an exterior opportunity, the Garden Terrace, when weather allows.
ts-awesome-star Oasis Poolside. Wedding rehearsals and wedding receptions take on a decidedly tropical twist when the "welcome" begins poolside at 'Tween Waters Inn. Complete beverage and hors d'oeuvres services available.
ts-awesome-star Canoe & Kayak Club. Intimate weddings will love the island feel and flavor of this venue, set along our eastern water's edge of Pine Island Sound. You'll enjoy our same outstanding menu options and attentive service, only in a smaller (up to 50 guests) portion.
ts-awesome-star Beach Reception. You can arrange for a brief cocktail reception following your beach wedding, for guests up to 150.
ts-awesome-star Captiva Cruise. For an inspiring start to your rehearsal or reception, ask about a Captiva cruise. We can help make it happen.
Download Our Wedding Services Brochure.

Comprehensive Wedding Services:
Why You'll Love 'Tween Waters Inn.
'Tween Waters Inn Island Resort provides a comprehensive complement of services that add the icing to your wedding cake — including beach ceremony runners, archways, seating and more; banquet white linens and skirting (no additional charge) or special-order linen colors and fabrics (market price); plus preferred wedding vendors (planner, florist, photographer, videographer, entertainment, more). Download Our Wedding Services Brochure.