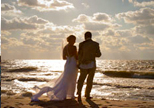 Few moments in your lifetime of memories will rival the day you marry the love of your life — beachfront, as the sun romantically descends over the Gulf of Mexico. Here on romantic Sanibel and Captiva Islands, there's no better place to start those memories than 'Tween Waters Inn.
Welcome to 'Tween Waters Island Resort:
Every wedding should be this good.
On the magical islands of Sanibel and Captiva, there's only one resort charming, historic and personally-attentive enough to live up to the sentiment: it was the most special day of our lives.
That's the legendary 'Tween Waters Inn Island Resort. For more than 80 years, 'Tween Waters Inn has been helping bridal parties create memories that last a lifetime — from barefoot beach weddings to formal rehearsals, ceremonies and receptions for up to 160 guests.
Unlike any other wedding resorts on Sanibel or Captiva, only 'Tween Waters Inn offers:
ts-awesome-star A unique, romantic location 'tween the breathtaking Gulf of Mexico beaches west, and the natural beauty of Pine Island Sound east
ts-awesome-star A total of 137 colorful, eclectic, spacious, comfortable and value-added lodging — historic seaside cottages; Gulfview and Bayview studios; 1-, 2- and 3-bedroom suites; guest rooms
ts-awesome-star Traditional or creative rehearsal and reception settings: banquet hall; Captiva's top-rated fine dining restaurant; sunset lounge; plus poolside and other venues
ts-awesome-star On-site floral, photography and video coordination
ts-awesome-star The Spa at 'Tween Waters Inn for pre- and post-wedding relaxation, plus on-site bridal party stylings
ts-awesome-star Pleasure amenities including 'Tween Waters Marina for sunset cruise excursions, sailing, fishing, kayaking and more; tennis courts; fitness center
Now that you've said "I love you," say "I love it" — and contact our Sales Department today at 800.223.5865 (x2).
Your wedding at 'Tween Waters Inn:
General Information.
Upon selecting 'Tween Waters Inn as host for your event, our Sales Department will reserve your space on a definite basis with required deposit and signed original contract within seven days.
'Tween Waters Inn does not block rooms without advance deposit of one night room rate plus tax per each room reserved. 'Tween Waters Inn requires advance deposit of one night's room plus tax with a 14 day cancellation. Please discuss with our Sales Department.
As both resort beach and marina are property of 'Tween Waters Inn, all events (including wedding ceremonies) must be scheduled with Weddings Leader, and are subject to applicable "site and facility" charges. Please discuss with our Sales Department.
In the event of inclement weather, 'Tween Waters Inn will provide indoor alternative(s) for your function. Management is responsible for choosing alternate location, and will determine appropriate time to facilitate this.
Due to city and state, health and liquor laws, 'Tween Waters Inn does not permit food or beverages not purchased on-site. A charge of $2 per person may be applicable for cutting and service of the wedding cake. In addition, minors are not permitted to consume alcoholic beverages, during any events, in accordance with national laws. Individuals failing to adhere to this will be requested to depart event or property.
'Tween Waters Inn provides a list of pre-approved preferred partners for a variety of services, as part of our booking process. To facilitate your satisfaction, we request advance notice of preferred partners retained to provide services on property — i.e., ceremony officiate, photographer, floral artist, entertainers, wedding planner. In some instances, proof of proper licensing and insurance may be required prior to event. 'Tween Waters Inn provides all linens and does not allow outside contracting of this service.

The use of entertainers in the Sunset Lounge is not permitted, due to proximity to restaurant. Please discuss options and flexibility with Sales Department. 'Tween Waters Inn maintains the right to control volume on all entertainment in all venues.
Final menu, guarantee and payment of estimated charges are required 30 days prior to event. This number is not subject to reduction, but may be increased by 10% with no penalty. Excessive increase to guarantee, within 14 days of event, may be subject to additional food service charge of $5 per person.
All food and beverage charges are subject to 20% service charge. In addition, Florida law requires collection of 6% sales tax.
In order to protect delicate ecosystems on our island, 'Tween Waters Inn prohibits use of confetti, rice, potpourri, birdseed, or similar materials. Applicable labor charges for clean up will be assessed in the event of non-compliance. Please consult our Sales Department for appropriate alternatives and unique suggestions for this lovely tradition.
A parquet dance floor is complimentary for events in the Wakefield banquet room. Events in all other banquet facilities feature solid flooring.
By your contract, you acknowledge that 'Tween Waters Inn possesses permission to use photographs of your event and guests, taken by staff or professional photographers, for purposes of marketing of the resort in all media.
Marriage License Information:
Lee County, Florida.
Where to Apply: Marriage license can be acquired Monday-Friday, excluding U.S. legal holidays, at the Lee County Administration Building, 2115 Second Street in Fort Myers, from 8:00 am to 5:00 pm. Licenses are available to both Florida residents and non-residents. Learn more at LeeClerk.org.
When to Apply: Licenses are issued immediately upon application and valid for 60 days from date of issue.
Identification: Couple must appear together in person and must be 18 years or older. Valid picture identification such as drivers license or passport showing picture and signature is required. If not first marriage, date previous marriage ended is required; if within six months, proof of date marriage ended is required. If legal name differs from name on drivers license, birth certificate is required.
Blood Test: A blood test is not required in Florida. Waiting Period: No waiting period is required for non-Florida residents. There is a three-day waiting period or four hours of premarital counseling required for Florida residents.
Fee: See LeeClerk.org for costs and other details. Cash only.

Save the date at 'Tween Waters Inn:
Sample Letter.
To download a sample "Save the Date" letter for your 'Tween Waters Inn Island Resort wedding, simply click here.