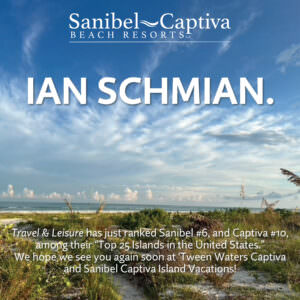 Captiva and Sanibel Island are known for their pristine shores, captivating sunsets and an unspoken promise of tranquility. The moment you step onto these islands, you're greeted by a sense of serenity that's hard to put into words. It's almost as if the Gulf air carries all your worries away, inviting you to unwind, relax and explore.
With beauty like this, there's no wonder why our precious islands were featured in Travel + Leisure's 15 favorite islands in the coastal United States. Our islands weathered through the storm of uncertainty this past year, and have come out standing tall. Despite being battered through a once-in-a-generation hurricane, life finds a way as the tropical lush and sandy shores welcome guests from all over once again.
Travelers who have wandered these sandy shores, enjoyed fresh seafood and marveled at the gorgeous sunsets cast their votes, securing Captiva and Sanibel's place among the nation's favorite islands. Sanibel Island, known for its abundance of seashells and mighty mangroves, finished in sixth place. While Captiva Island, known for its tranquil beauty in the forms of fiery sunsets and fascinating history, finished in 10th place.
With 'Tween Waters Island Resort & Spa as your gateway to these beloved isles, your journey into paradise is seamless. Our beachfront oasis offers the perfect blend of comfort and adventure, with access to the natural wonders and enchantment of Captiva and Sanibel.
Explore, discover and savor the moments that make these islands truly unforgettable. Book your adventure to paradise today!