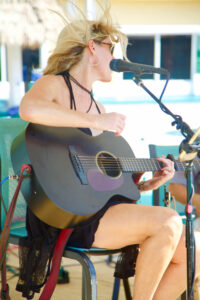 Mark your calendars for 2018. That's right, 2018. Because on a beautiful and sunny weekend that June, 'Tween Waters Island Resort & Spa — Southwest Florida's top beach entertainment capital — debuted the first Captivaville Songwriter's Weekend.
Now, mark your calendars for June 16 – June 18 this year, as the Official Beach Resort of Captiva Island hosts the 5th Annual Captivaville Songwriters Weekend! This year, our focus is to support and celebrate our many talented local artists been on the sidelines far too long due to a certain hurricane — so we're in the final days of assembling a lineup of great artists playing day and night Friday, Saturday and Sunday.
And as always, our overnight guests get to enjoy our weekend musical party with absolutely free admission!
Be sure to secure your reservations here and now at 'Tween Waters, the only full-service Resort on Sanibel and Captiva Islands, or call 800.223.5865. And be sure to keep up on all the excitement of Captivaville on our social media communities, too!