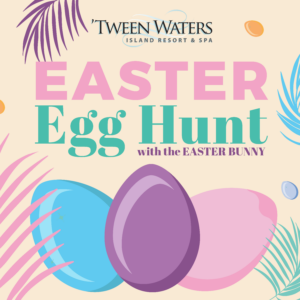 Ah, springtime. It's the time of year when most of the country puts the winter parkas away, hangs up the snow shovels and begins to bask in longer days of sunshine. And, after Old Man Winter leaves for the year, such a time calls for a celebration. 
Fortunately, we know just the place to go and brush off those last few remaining winter snowflakes. We're talking about 'Tween Waters Island Resort & Spa, of course! 
This Easter, we've prepared the perfect spring getaway for guests to enjoy. Not only will your stay at the Official Beach Resort of Captiva Island be filled with warm days of tropical sunshine, but also lots of fun! 
For all the little bunnies staying with us, we'll be featuring our very own 'Tween Waters Easter Egg Hunt from 9:30 a.m. to 10:30 a.m. with a special appearance from the Easter Bunny! Not to mention, kids who participate will win a prize. As for the grown-ups, find the elusive golden egg we've hidden on resort and you'll score a $25 gift card from the 'Tweenie Bunny! Or, have a relaxing morning spent poolside with complimentary mimosas, where refreshments for kids will be available too. 
After the morning fun, be sure to hop over for delicious eats and treats at the Old Captiva House, where we'll be serving our famous Easter Buffet. This year, Chef Greg has prepared a wonderful arrangement of delectable treats that any palate would enjoy. Tables fill up fast, so be sure to make a reservation as soon as possible! 
So, if you're looking for some fun in the sun this Easter, you'll find no better place than at 'Tween Waters! Click here to make a reservation or call today at 800.223.5865.