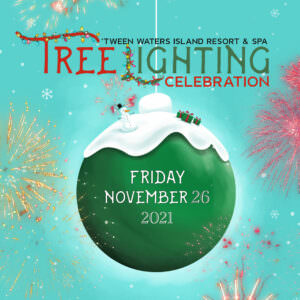 When you think about Christmas, what's the first thing that comes to mind? Perhaps it's all the gorgeous lights twinkling through the night? Or maybe it's a tree filled with ornaments next to a cozy fire? Or, just perhaps, it's watching for Santa's sleigh to come chasing across the sky.
Whichever looks like Christmas the most to you, one thing for sure — it's simply the best time of year to get together with friends and family and enjoy each other's company. And there's no better place to do that than at 'Tween Waters Island Resort & Spa's Tree Lighting Celebration.
This year, we're lighting up our entire property with more than 200,000 twinkling holiday lights, synced together in musical jubilee. Also, we'll have a 30-foot Christmas tree at the threshold of the Gulf of Mexico, live holiday music, laser lights and even REAL SNOW falling from the palm trees above.
And get this– we've opened our Annual Tree Lighting Celebration to everyone who wishes to attend with free admission. So whether you have reservations to stay at the Official Beach Resort of Captiva Island, or at one of our beautiful sister properties, you can!
Hurry and book your rooms now by clicking here or giving us a call at 800.223.5865. Or, reserve a table at one of our fantastic restaurants, Old Captiva House or Crows Nest Bar & Grille and you're in!
So get cheery, get jolly and celebrate the start of the most wonderful time of the year at our Annual Tree Lighting Ceremony!