2 guests   studio   1 bed   1 bath
Our Hibiscus Cottage is conveniently located in the center of our resort, surrounded by tropical foliage and flowers. A studio-style cottage, you'll enjoy queen bed, kitchenette and full bath amid comfortable accommodations with rich wood stylings — as well as relaxing moments in the screened porch looking out on our botanical garden.
Our Family Pool, Serenity Pool and Oasis Pool Bar are mere steps away, with a quick walk (and a selfie) across 'Tweenie's Pass bridge.
Behind the Name: Hibiscus is a flowering plant with large, vivid tropical flowers that come in a variety of colors. The Marsh Hibiscus, or Swamp Mallow, is native to Florida with large, deep-red flowers that bloom in summer.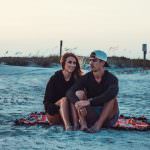 This is a favorite of ours and has been for many years. Great for families, couple getaways, and just sheer island time.