2 guests  studio   1 bed   1 bath
Our Orchid Courtyard Cottage is conveniently located in the center of our resort, surrounded by tropical foliage and flowers. A studio-style cottage, you'll enjoy queen bed, kitchenette and full bath amid comfortable accommodations with rich wood stylings — as well as relaxing moments in the screened porch looking out on our botanical garden.
Our Family Pool, Serenity Pool, tennis courts, pickleball courts and Oasis Pool Bar are steps away — just follow our brick pathway and charming boardwalk.
Behind the Name: Over 40 orchid species are native to Florida, each showcasing a unique and vibrant flowering style. Overall, the number of orchid species in the world is more than twice the number of bird species and 4 times the number of mammal species.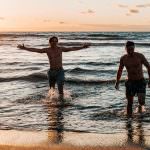 What a dream. We felt instantly relaxed upon arrival at 'Tween Waters and our stay in the Orchid Cottage. It was quiet, slow paced, and exactly what we hoped for in a beach vacation.