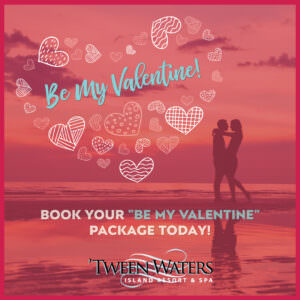 For many of us, Valentine's Day is that one day of the year to show that special someone in our life how much we appreciate and love them.  
We plan beforehand, buying flowers, boxes of chocolate, cheesy love cards. We'll schedule dinner dates or cook romantic meals at home and enjoy the company and intimacy Valentine's Day offers.  
But the next day we go back to work. We order take-out and let the dishes stack up wondering whose turn it is to clean them. 
Wouldn't it be great to have a few more Valentine's Days?  
That's why this month at the legendary 'Tween Waters Island Resort & Spa, we're not celebrating love on one day, but throughout the entire month. We've turned February into the month of love and we'd like to share it with our Be My Valentine package.  
Our Be My Valentine room package is perfect if you and your special someone want to cuddle up, get cozy and enjoy what travel experts call "America's Most Romantic Beach" Captiva Island. Unlike the rest of the country during February, couples can enjoy the warm weather, sun kissed tree tops and calm waves Captiva Island hosts time of year.  
On top of that, couples who take advantage of this deal will also get two romantic settings, a relaxing 50-minute Swedish Massage and a bottle of wine and dessert for two during a charming evening at our amorous restaurant, Old Captiva House.  
Why celebrate over dinner for one evening when you can celebrate by taking a trip to paradise? Book using our Be My Valentine's package now and let the rest be history. Click here to book or call 800.223.5865 and speak with specialist today.