It's not exactly peanut butter and jelly.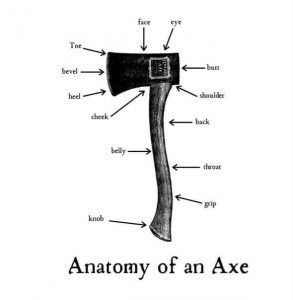 When composing a list of things that naturally go together, any number of possibilities ought to come to mind before axes and night clubs.
But while it may lag behind steak and eggs, washers and dryers and Siegfried and Roy, the idea of mixing adult beverages with wood-splitting implements is surely gaining velocity.
Axe-throwing has become one of the hot trends among adventurous millennial types in the last few years, graduating from the comfortable realm of group events – corporate get-togethers and bachelor parties, for example – to the trendy bar scene in dozens of cities across the United States.
It's gotten so big that there's even a league for it.
The World Axe Throwing League is the global governing body of urban axe throwing. It was founded in 2017 by representatives from four countries and these days boasts more than 175 members from nearly two dozen nations. Sanctioned tournaments include the U.S. Open, Canadian Open, European Open, the North and South American Arnold Opens and the World Axe Throwing Championship.
Conveniently enough, it's made it to our big backyard, too.
Wannabe throwers of all colors, creeds and confidence are invited to strut their competitive stuff about an hour from the Tween Waters front doors at TJ's Hatchet Hangout, which opened just more than a year ago amid a busy strip of restaurants, salons and Marine Corps recruiters in nearby Cape Coral.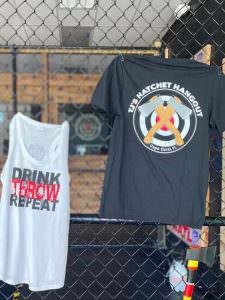 The T and J stand for "Tasha" and "Jessi" – or Natasha Williams and Jessika Lee, if you prefer formality – the business partners who opened in 2019 after stumbling past the burgeoning fad on television and doing due diligence in the form of visits to clubs in North Carolina, Pennsylvania and elsewhere in Florida.
Their Southwest Florida enterprise is now open four days a week – including "Ladies Night" on Thursday (6-10 p.m.), Fridays from 5 p.m. to midnight, Saturday from 2 p.m. until close and Sundays from 2 p.m. to 6. The facility then shifts to league-only mode on Sundays from 6 to 9 p.m.
And while the exterior screams suburban retail sprawl, the interior is another world entirely.
A recent Thursday trip revealed all the elements of a trendy bar, from dimmed lighting to a credible beer/wine selection to a DJ in a makeshift booth playing a few decades' worth of requisite upbeat tunes.
Visitors immediately encounter a front desk where they're mandated to sign a waiver indicating awareness of the risks involved, and where all members of arriving groups are given self-serve nametags and encouraged to creatively incorporate the word "axe" into their aliases for the night.
"JackAxe," "Go Axe Your Mother" and "Axing For a Vacation" were among our pithiest ideas.
Once through the introductory gauntlet, you're shown to your throwing station, which amounts to a super-sized dart-throwing lane – about 15 feet long and surrounded on each side by ceiling-to-floor chain-link fencing that prevents wayward tosses from becoming full-on traumatic events. Each lane includes two wall-hung wooden planks that serve as targets, complete with scoring rings and bullseyes.
There are four lanes aligned adjacently along the right side of the interior space, while the other side includes comfy couches, charts honoring high-scoring league players, the aforementioned bar space/beer cooler and a merchandise shelf complete with branded T-shirts, bandanas and the like.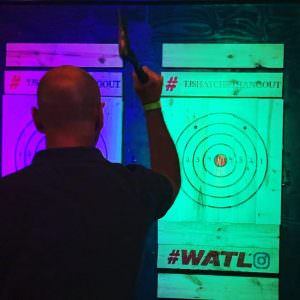 Along with each throwing station comes a resident expert – or in TJ's lingo, an "axpert" – who serves as a liaison/scorekeeper and guides players through both the finer points of axe-throwing and the rules of the various individual and team games available to each group.
In our case, "Axpert" Jason led our cadre of eight schoolteachers through a collection of games that included Cricket, in which teams take turns attempting to get three hits at each scoring level; 21, which is similar to blackjack in that players compete individually to get their score to 21 without going over; Around the World, where the winner is the first player to shoot 1-2-3-4-bullseye-4-3-2-1 in that order; and a grand finale, where everyone's nickname sticker is placed on the target and players get multiple chances to eliminate one another before the last unscathed name is declared the winner.
A two-hour session with eight people included a brief practice, the series of games and a ceremonial awarding of "Most Valuable Thrower" honors to the (in this case) two best competitors in our group.
Meanwhile, given that my name was among the first to go in the finale, I was forced to settle for the consolatory thrill of landing a bullseye – which is celebrated each time it occurs by the chance to ring a lane-side bell with a tone just piercing enough to block out any revisionist Rob Base or Young MC thoughts the DJ might have. By the time the night was over, in fact, I couldn't hear a word.
And in my book at least, that's a win-win.