Maybe you want to pilot a speed boat.
Perhaps you aim to be a champion water skier.
Or it could be that you dream of taming an ornery bull.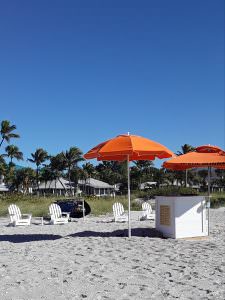 Well… just in case you haven't checked those items off your adrenaline junkie bucket list just yet, the good folks at Captiva Watersports have a little something to show you that could count for all three.
They call it the Shark Boat.
And though it doesn't pack quite the menace as the sea creature that lends its name, it's a fair bet that experiencing it up close will leave you only slightly less breathless and jittery.
Not to mention sliced, diced and julienned.
My rendezvous with the water-ready Veg-O-Matic began on a weekend trip to The Marina at 'Tween Waters, where I was greeted at the desk by the engaging and helpful John – who took down the requisite pre-ride information (height, weight, next of kin…) for myself and my 11-year-old son, Ryan.
A few waivers and electronic signatures later and we were headed across Captiva Drive to the beach, where we spotted the signature orange umbrellas and found Jordan, our CWS chauffeur.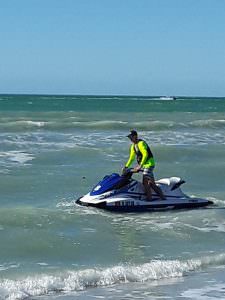 Don't let the casual tank top and backward cap fool you, Jordan is a Coast Guard-licensed captain.
As are all his sea-going colleagues.
In fact, he flexed safety muscles by sizing our life vests, steadying the "boat" – in this case, two inflated pontoons with narrow strips on the sides and in between – while we climbed aboard, and running through a series of hand signals loosely translating to "speed up," "slow down" and "call an ambulance."
From there, a couple quick tugs on the 10-ish-yard rope tethered to his Jet Ski, and we were off.
And almost as quickly, I realized this thing was way more challenging on water than it looked from land.
Though he'd barely gotten the speedometer off 0, the boat was already hitting every chop of the incoming tide, leaving Ryan and I white-knuckling the single straps in front of our seats at the tail end – literally – of the boat. But once Jordan looked back and realized we were still there, he upped the ante.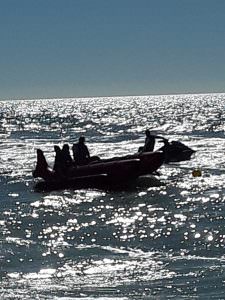 A throttle blast sent us reeling backward. A turn left or right tipped us drunkenly to the opposite side. And once he started in a circle – or, as Ryan called it, a death spiral – the blend of watery spray, wavy buffeting and momentum-spiked G-force was the Gulf's interpretation of a Ron Popeil brainstorm.
So, knowing the boat was getting the better of me… I resorted to competition with a pre-teen.
Ryan and I began logging both "knockdowns" – meaning anytime one of us spilled off his pontoon perch while maintaining hold of the strap – and "fall downs," which covered the same ground as a knockdown but without the grip, leaving its victim red-faced in the water until Jordan swung back for a pickup.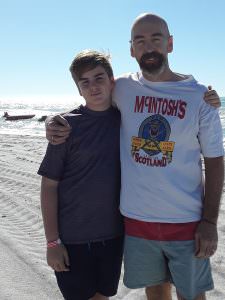 Halfway through the 20-minute ride I'd already hit the deck three times to Ryan's one, which provided the sort of "good lord, I have to live with this kid" motivation that a million Rocky montages never could.
And, suffice to say, it worked.
Two more demon spins ultimately evened our tally at three apiece, and when a last quick jolt forward caught Ryan by surprise and sent him flailing into the drink… I'd be lying if I said I didn't smile.
Right up until the time I reached out and pulled him up, of course.
After all, what are fathers for?