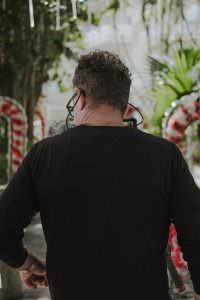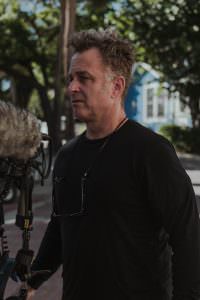 Erik Levine is an internationally renowned video artist and filmmaker whose amazing work has appeared in solo and select group exhibitions in major art galleries and museums across the United States and literally the world — United Kingdom, Germany, France, Switzerland, Denmark, Greece, Austria, India, Taiwan and more. Working within the medium of video, Levine is recognized for his sometimes dark, and always thought provoking, studies of the human condition — often the darker side of our existence, with subjects including a slaughterhouse, jail, geriatric facilities and tactical forces.
This past year, Levine was one of a select group who throughout the year receive a 5-week fellowship from the Robert Rauschenberg Foundation on Captiva Island, where artists are housed, fed and encouraged to do whatever they desire — be it work or relaxation. He chose work, but in this instance, he was inspired to turn his attention and his cameras to the lighter or brighter side of life that Captiva promises.
"My initial thought was to focus on the human experiences of leisure, downtime, the associations of pleasure," he notes. "Ultimately, I think it became more about the juxtapositions and contrasts you find here, service providers and guests, work and pure beauty."
Initially, Levine sought to invest his month of filming at South Seas Island Resort, but was rejected. He then approached 'Tween Waters Island Resort and Spa — and he's thrilled at the outcome. "Thank goodness South Seas rejected me," he says. "'Tween Waters is so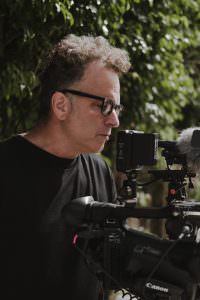 much more accommodating and interesting. The different buildings, the architecture and of course, the setting between the Gulf of Mexico and Pine Island Sound. Plus the people couldn't have been nicer and more welcoming."
As a Professor of Art at the University of Massachusetts (Boston) and a New York City resident, this was Levine's first trip to Captiva — and he was equally smitten by the November weather. "It was spectacular," he says. "Having weather like we had consistently, it might sound trite or banal, as a human organism living in this environment, it has an enormous effect on your outlook, well being and emotions — what a deep and profound pleasure the weather is. It's almost like sex, it has that kind of rawness and connection with your body, at least for me. It puts you much more in touch with the world."
Fans looking for Erik Levine's take on 'Tween Waters and Captiva Island will have to be patient. This artist has two video works to complete before turning his attention to the island lifestyle, which could take up to two years. From all of us at Sanibel Captiva Beach Resorts, thank you Erik Levine for your work — and we look forward to praising your final cut with standing ovations.