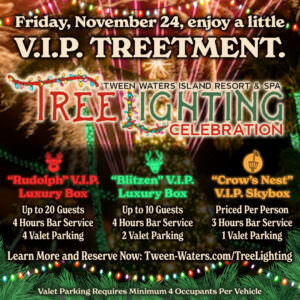 Don't look now, but we're getting close to the most magical time of the year! The holiday season of course! And what better place to get into the holiday spirit than at 'Tween Waters annual Tree Lighting Ceremony! 
This year, imagine having the best seats in the house where you can savor the breathtaking views and festivities from a vantage point like no other. That's exactly what our "VIP Treetment Packages" are all about! Let's take a look at which VIP Package is right for you:
1.) Happy Holidays Tree Lighting Access
Enjoy all the amenities and entertainment you can get! From 8 a.m. to the event's end, take in all the wonders of our Tree Lighting Ceremony! With access to all resort amenities, it's the perfect package for you and your family!
2.) Over The Top VIP Skybox at Crow's Nest Steakhouse
Indulge in appetizers and three hours of bar service from 5 to 8 p.m. Savor the flavors of beer, wine and mixed drinks as you soak in the festivities from an exclusive vantage point. With valet parking included for groups of four or more, your evening will be seamless.
3.) Blitzen VIP Luxury Box
For those seeking an extraordinary holiday experience, our Blitzen package includes an exclusive 4-hour bar service with a dedicated server. Sip on beer, wine and a selection of limited mixed drinks as you celebrate the holiday season. As an added touch of elegance, we've included two bottles of champagne to raise a toast to the festivities.
4.) Rudolph VIP Luxury Box
For those looking to elevate their holiday celebration to new heights, our "Rudolph" VIP Luxury Box offers an unforgettable experience. Indulge in a 4-hour bar service with a dedicated server, serving a delightful selection of beer, wine and mixed drinks. Enjoy four bottles of complimentary champagne, adding a touch of sophistication to your celebration.
With VIP Tree Lighting Packages, you can elevate your experience and enjoy the season's magic in style. Reserve your spot for this unforgettable evening and immerse yourself in the holiday spirit at 'Tween Waters Island Resort & Spa.