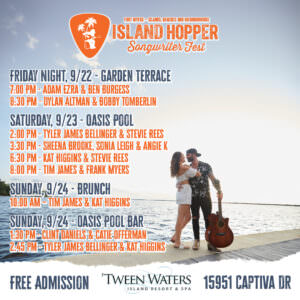 Are you ready for a sun-soaked weekend filled with music and fun? If so, mark your calendars for September 22-24th, as the Sixth Annual Island Hopper Singer-Songwriter festival is coming to the Legendary 'Tween Waters Island Resort & Spa!
Throughout the weekend, we'll be hosting 19 jampacked performances day and night. With afternoon poolside gatherings, garden oasis shows and early morning brunch gigs at our all-new and rave-reviewed restaurant, The Shipyard, you can expect great tunes to fill the air and hum over Captiva.
One of the best things about Island Hopper is that each concert is free for all our guests. That's right! If you're staying with us, you can enjoy every performance without worrying about getting tickets or passes. You can wake up in the morning, grab your coffee and reserve your spot to whichever show you'd like to see!
Not staying with us? No fret! Even if you don't have a reservation, as long as you can find a parking spot for $25, you can attend Island Hopper for free! So, whether you're local or visiting from out of town, you won't have to worry about day passes.
There's no better way to end the summer of 2023 than at Island Hopper! Hurry and book today, as we still have a few spots remaining! Plus, if you're planning to visit Sanibel or Captiva that weekend, you're in luck! Tolls have been lifted from September 22 to 24, making it even easier to get to the festival!
So join us for a weekend of music, sun, and good vibes at 'Tween Waters Island Resort & Spa. We can't wait to see you there!