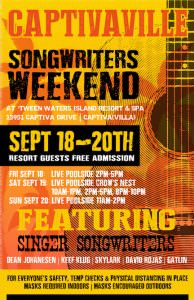 Attention all music loving, sunshine worshipping, awesome-fun seekers! 'Tween Waters Island Resort & Spa is ready to rock your September with the Second Annual Captivaville Songwriter Weekend. Available FREE to resort overnight guests only, Friday September 18 to Sunday September 20 promises 5 great artists, 3 great days and 1 fabulous weekend of fun. Specially-priced weekend packages are available here or by calling in-house reservations at 800.223.5865. Please note: due to health and safety protocols, this is a resort guests only event, free to resort guests.
"Our long term goal is to become the number one entertainment venue in Southwest Florida," notes Doug Babcock, Chief Executive Officer of Sanibel Captiva Beach Resorts. "We believe that by hosting the Second Annual Captivaville Songwriters Weekend, we can bring a highly valuable added benefit to our guests. Three days of music, mostly poolside, under the sun is sure to make a lot of folks smile. At the same time, we'll certainly enforce all CDC recommended protocols, including temperature checks and physical distancing."
The Captivaville 2020 lineup features outstanding regional singer-songwriters from primarily South Florida. The schedule includes:
FRIDAY SEPTEMBER 18: Keefe Klug (2 pm – 5 pm poolside). Keefe blends a pop background with "beach country."
SATURDAY SEPTEMBER 19: Skylark (10 am – 1 pm poolside). An acoustic guitar and vocals duo playing everything from Tracy Chapman to U2, and a lot of styles in between. Dean Johanesen (2 pm – 5 pm poolside). With an album out already, Dean will entertain with a unique combination of acoustic rock, country, Americana, jazz and swing. Gatlin (8 pm – 11 pm Crow's Nest). This husband and wife team is a favorite among Southwest Florida country and country rock fans, and play more than 200 shows annually.
SUNDAY SEPTEMBER 20: David Rojas (11 am – 2 pm poolside). David brings acoustic stylings and rich, mellow vocals to a variety of genres, from country to rock to Americana.
Occupancy is limited so book your weekend now here or call 800.223.5865.