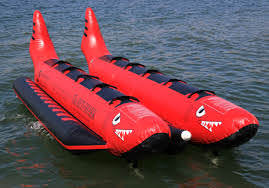 If you're looking to make a splash on your next visit to 'Tween Waters Island Resort & Spa, you've got to take a ride on the exhilarating Shark Boat! Talk about creating an unforgettable memory — the Shark Boat is the newest watersport activity offered right onsite at 'Tween Waters through Captiva Watersports. Up to six riders can enjoy the Shark Boat at a time, each in her or his own seat, and the oversized pontoons on the sides make it very stable, and easy to get on and off. 
Ready to ride? Just step on and hold on! You'll be skimming across the water in no time, with the wind in your hair, yelling for more. The Shark Boat ride is about 15 minutes in length and you don't have to worry about steering as you're towed behind a jet ski driven by a USCG certified captain. What a thrill! And it's only $20 per rider. 
If you enjoy the water but don't want to get wet, parasailing is another exhilarating option. No physical ability is required either. Just sit on the rear of the boat and be gently lifted to 800 feet in the air. Up to three people can soar at the same time. And those views of the island, the Gulf and Pine Island Sound!! You might even see dolphins or manatees.  
Whatever your level of activity or your budget, Captiva Watersports has something for you. Discount coupons can be found at their website along with any age, height or weight restrictions. You can also find coupons in your "Resort Rewards" coupon book you'll be given upon check-in. 
Have fun out there!