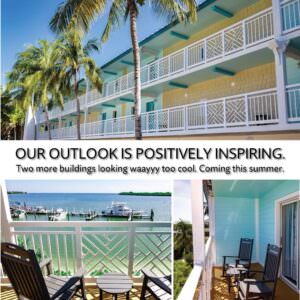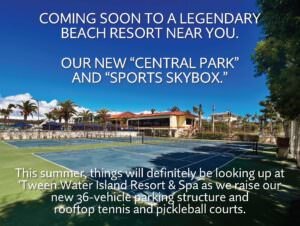 As we write this, Hurricane Ian is eight months in the rear view mirror of Southwest Florida. And while significant progress is being made each day — for homeowners, businesses and visitors — arriving at a "new normal" for Sanibel and Captiva remains in the distant horizon.
Except at one legendary island beach resort.
Miraculously in a way, as we now know, 'Tween Waters Captiva survived the fifth strongest hurricane in U.S. history with minor bumps and bruises. From first opening to vital restoration and repair crews, to welcoming island residents shortly thereafter, to checking in actual guests early January, the resort has been — and remains today, 180-plus days after the disaster — the only full-service resort on the islands.
Guests please note: Effective June 1 – September 30, our 2023 rate structure reflects a 10% "Construction Reward" (10% discount) to thank you for your loyalty and understanding as we evolve and renew. Thank you.
But more than survive, 'Tween Waters Captiva is thriving, evolving, expanding and enhancing guest experiences and satisfaction — and as summer approaches, the greatest anticipation, excitement and achievements are about to arrive:
May 15: the Shipyard Restaurant opens to rave reviews. The reopening of any business on the islands is a cause to celebrate. The opening of a new, destination beachfront restaurant more than one year and one hurricane in the making? Amazing.
May 27: The Garden Terrace at Old Captiva House debuts its way-cool retractable roof to protect from hot sun or rain showers.
June 1: Construction begins on the all new "Central Park" and "Sports Skybox" in the center of the resort's campus. This incredible effort will rebirth 'Tween's two tennis courts into a 36-vehicle covered parking structure (Central Park), while elevating tennis and pickle ball courts to a second level "Sports Skybox" with inspiring views, at no extra charge.
July: Two huge and tremendous events! First, the only restaurant on Captiva Island with a second-level view of our stunning Gulf of Mexico sunsets will begin taking reservations at the all-new, ultra-cool Crow's Nest Steakhouse, complete with private label Shipyard whiskey and San Cap Beach Resorts Captiva Blonde ale. Then, our Sea Grape and Palmetto lodging buildings embrace new exterior refacing, with its charming coastal vibe.
There's much more on the way, from improvements and enhancements to holidays and special, one-of-a-kind entertainment events that only 'Tween Waters Island Resort & Spa can provide.
Stay in touch for all of the plans and progress — not just at 'Tween Waters, but at our three other beach resort locations and vacation rentals on the path to new and exciting futures — by subscribing to our e-news, text messaging or both here.
Shouldn't every day be this good? Heck yeah. But just wait 'til you see tomorrow!